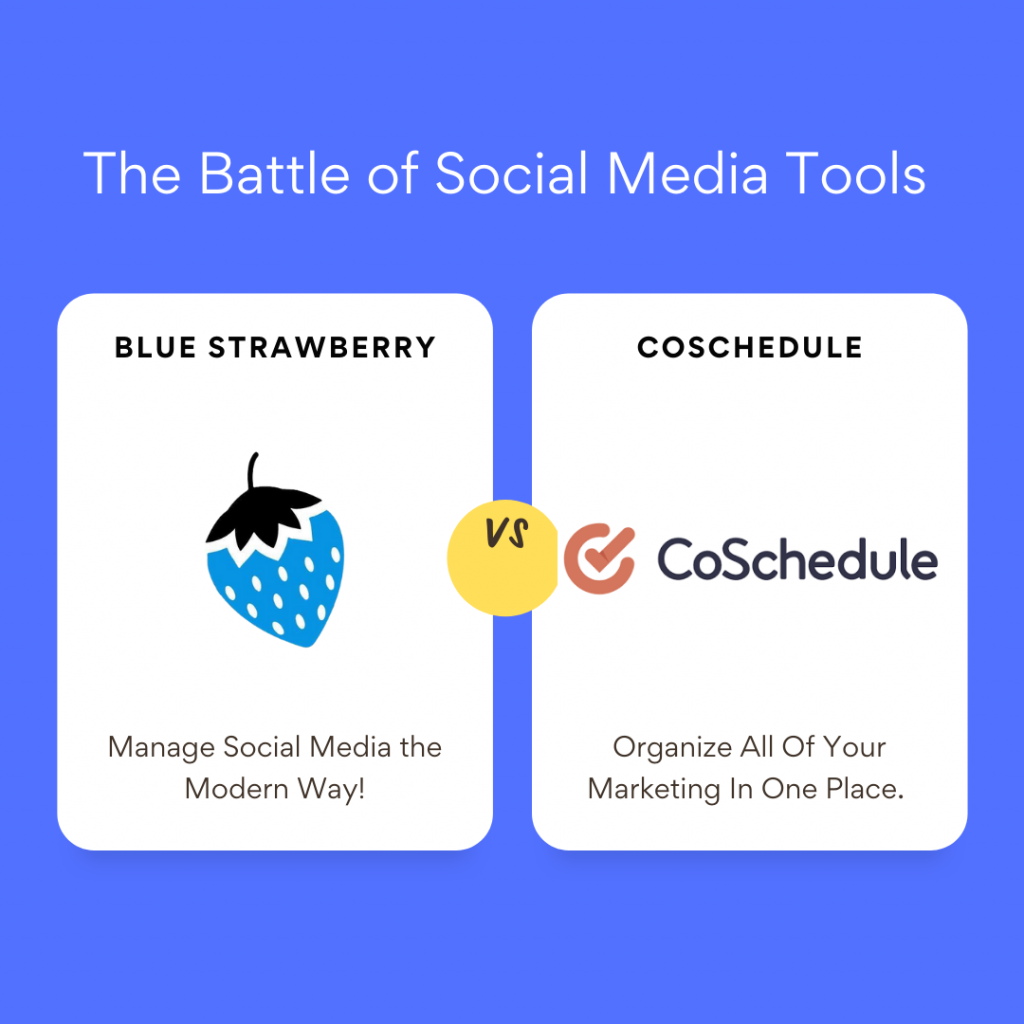 Features, Services, and More
Choosing the adequate social media scheduling tool isn't an easy task but it's nonetheless a crucial one. Depending on your choice you might have different available features and product quality for a remotely or considerably different price. This article will compare Blue Strawberry with its competitor CoSchedule, and we'll be completely honest. 
Features and Services
CoSchedule

Blue Strawberry

It offers two main product groups, content calendars, and content optimization.
Having several notable features Blue Strawberry is a great CoSchedule alternative with four main perks: campaign creation, video feature, flexible scheduling, and image editing.
Content calendars contain two different options: Marketing Calendar and Marketing Suite. Marketing Calendar allows its users to have an overview of all the ongoing projects in one place. It helps connect the dots and shows project progress. Marketing Suite is packed with a range of different marketing tools like calendar, content, work, and asset organisers.

The main thing about Blue Strawberry is that it uses AI to help out in all its features. With campaign creation, users are offered a comprehensive helping hand to help them create their desired social media campaigns. The video feature helps users in creating engaging video content for their social media platforms.

Content optimization on the other hand consists of the Headline Studio and the Actionable Marketing Institute. Headline Studio guides clients in writing better headlines to boost their traffic. Meanwhile, Actionable Marketing serves as a tool for the development of marketing skills and personal
growth.

With the help of AI, Blue Strawberry uses its flexible scheduling feature in creating a business plan compatible with their professional goals. This impacts growth and is resource efficient leaving more time and money to focus on other tasks. Finally, image editing is made simple with this Blue Strawberry feature. Don't waste time and money on expensive software just leave it to Blue Strawberry

Features and services
Pricing
CoSchedule pricing consists of charging for the Marketing Calendar which is $29 when billed annually or $39 when billed monthly. Its Marketing Suite feature is subject to discussion and there is no available price for it online. 
Blue Strawberry offers four different price plans: Starter, Basic, Standard, and Professional membership. Each of these plans comes with different features and benefits included. Their prices range from $10 to $99 when billed annually or $12.50 to $125 when billed monthly.
Individual Benefits
CoSchedule offers a great organisation and marketing tool in one. A lot of business tasks can also be achieved with its flexible Marketing Suite assets.
Blue Strawberry uses its AI to help out small businesses, entrepreneurs, influencers and vloggers make their content more creatively engaging and innovative.
Ready for a surprise?
We are all about helping businesses, so we've got a special FREE Trial to judge the winner for yourself. Click here and sign up now, we're waiting for you!