Campaign Creation – Create and Manage Inspiring Campaigns With Ease
"That's it, I'm ready to enjoy my weekend "– Social Media Managers at 6 pm on a Sunday. My fellow strawberrians, I am 100% sure that this has happened more than once to entrepreneurs, small business owners, content creators, social media managers, vloggers. Luckily, I, Blue Strawberry / yours campaign management tool is here for you!
Campaign Management Feature
One of my many features, among saving your time, I'm a campaign management tool that can make your life easier and spiking your creativity to the levels of a professional! You will see soon that everyone will ask you "which marketing agency are you using", "how come you have so much free time and your content is so original"? Well, this is because I save your time on creating and editing social media posts, so your creativity can shine its light. Yes, I might be a machine, but I think we will be best friends, really soon!
With the Blue Strawberry campaign management tool you can edit your posts, create videos, schedule posts 18 months in advance and also create campaigns. What is our Campaign Creation feature? Well, let's get into it a little deeper.
Campaign Creation Process
If I have not detected your blog once it is published, I can still be helpful. My Campaign Creation and Flexible Scheduling feature is really easy to use, and it will allow you to promote your blog for as long as you wish!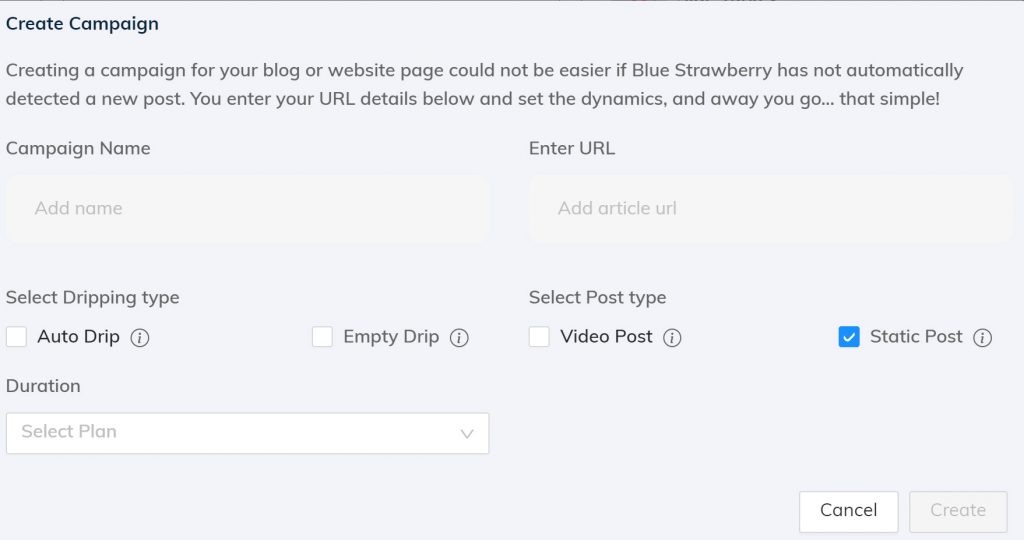 Once you click on "Create campaign" a window will pop up and I will ask you to enter your URL details below and set the dynamics: Dripping type, Post type, and Duration. Once you click the save button, we proceed to add hashtags, mentions, images, and quotes. This is where my AI social media posting comes in handy – I, social media campaign management tool will recognize the quotes from your blog and you can just check the ones you would like to feature and voila, you have created your campaign!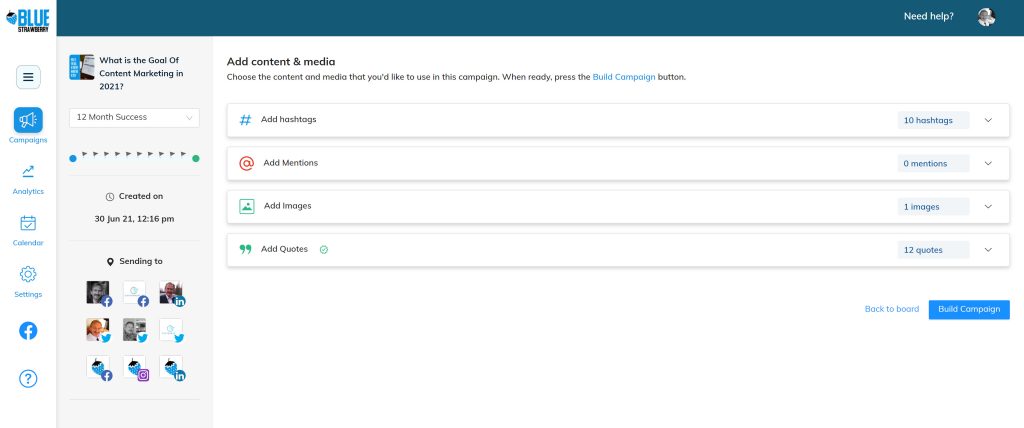 Campaign Management Process
Now, in the span of the duration of your campaign, I will publish the posts for you, at optimal times! You do not have to worry how many days have passed, or, have your weekend start at 6 pm on a Sunday! You can just lay back, have some strawberries, I would say that blue is the best kind of campaign management tool and think about what your next destination will be! And all of that is ready in 5 minutes.
To Conclude
Told you we would soon be really good friends! Creating and managing social media campaigns on different social media platforms can sometimes be dull work, but with the help of campaign management tool features, you will notice how much you actually enjoy it! And why is that? Because your favourite social media marketing software is cloud-based, available on the go, whether you use an Android or iOS system. Social Media Campaign Creation has never been easier!
Happy strawberry-ing friends ?