Campaign In Motion: Video Creation Feature Usage
Are you bored of static campaigns and stock imagery? With Blue Strawberry's video creation feature, set your campaign in motion and make it stand out. We believe that your social media campaign is special and that's why we want to help you make the most out of it. Blue Strawberry offers amazing and easy-to.use content management tools that will help you generate the best results for your business. It will tell you all about our video creation feature usage and how it can help you both save time and spare you the hassle.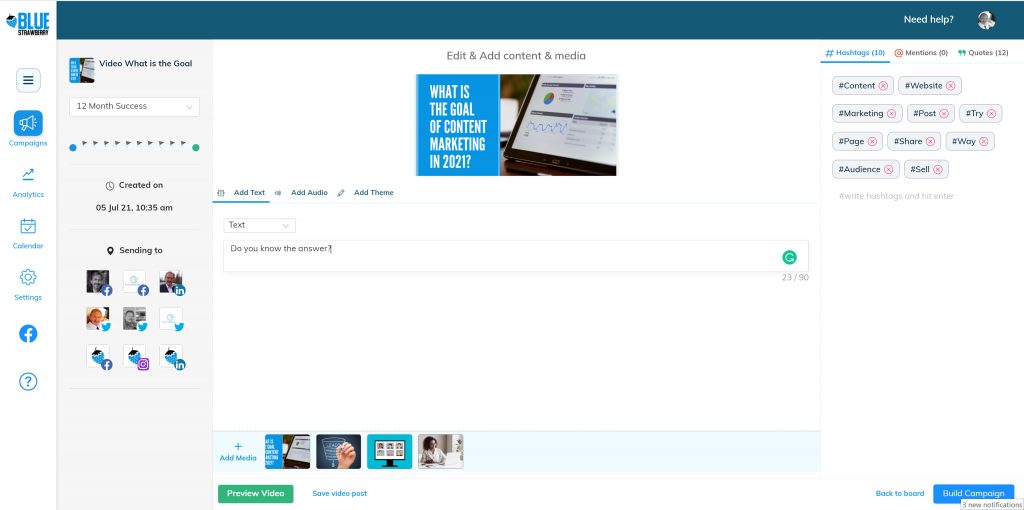 Video is the King
Video is an amazing way to reach your social media audience. Whether it is through social media posts or online ads, videos attract more attention. The unique combination of audiovisual elements sets video out from plain text or images. 
Sound can be used as a narration tool or as an attention-grabber. It can help the audience focus on what's important and clarify specificities. Sound can also improve accessibility to your campaign, making it readily available to a wider audience.
Moving images in videos can be used in an array of different ways. They can keep the viewer's attention while presenting your idea. They can subtly determine your campaign's tone and do a big part of branding for you. This gives you a great opportunity to imply rather than force your ideas onto your target audience.
Both of these features combined make video an amazing campaign management tool to spread the word and make your campaign unique. Video also appeals more to the younger audience who are more active on social media platforms. This allows greater engagement and audience participation with your campaign.
Why Blue Strawberry?
Blue Strawberry is a platform that helps you create unique social media updates using your existing blog content. Besides its video creation feature, there are a variety of different video creation and social media scheduling tools you can use, such as auto-drip, empty. drip and static post. The key is that all of these tools are super easy to use and don't require any special skills.
Oh did I also forget to mention that Blue Strawberry uses AI and machine learning to maximize the outcome of all campaigns thus saving both time and money. Time is everything in the business world and this platform is made to optimize your marketing campaign output and time ratio.
Blue Strawberry video creation tool is readily available to use on multiple platforms such as Facebook, Twitter, Instagram, and LinkedIn. It's easy, effective, and economic making your social media campaigns successful and helping your business flourish.
In conclusion
Video creation feature usage in your campaign is an effective tool to set the motion. With a variety of different customizable options and marketing strategies you can attain through video, it really stands out from other mediums.
Social media campaigns can be daunting and time-consuming but all of that can be dealt with through use of platforms like Blue Strawberry. Not only will you save time and money but you will also get the best possible results out of your campaign which is all that matters in the end.