Create Inspiring Single Social Media Posts With Ease
"That's it, I'm ready to enjoy my day "– Social Media Managers at 6 pm on a Sunday. My fellow strawberrians, I am 100% sure that this has happened more than once to you, small business owners, content creators, social media managers, vloggers. Luckily, Blue Strawberry has a single post feature that can post immediately or scheduled if you like, to catch those special moments on Social Media.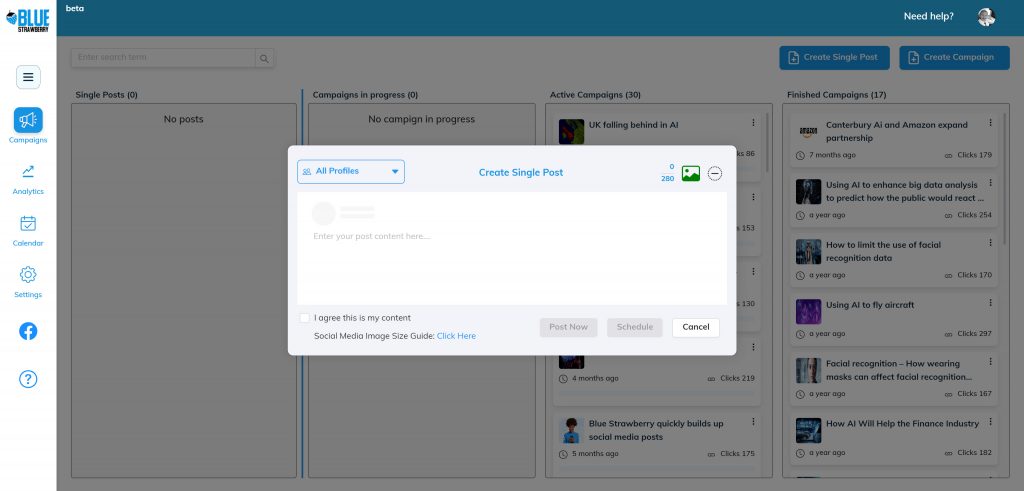 Single Post Management Feature
One of my newest features, among saving your time, I'm single post social media tool that can make your life easier and spiking your creativity to the levels of a professional! You will see soon that everyone will ask you "which marketing agency are you using", "how come you have so much free time and your content is so original"? Well, this is because I save your time on creating and editing social media posts, so your creativity can shine its light. Yes, I might be a machine, but I think we will be best friends, really soon!
With the Blue Strawberry single post management tool, you can create a single post, and post immediately or schedule it in advance. It really is very simple and fast to use.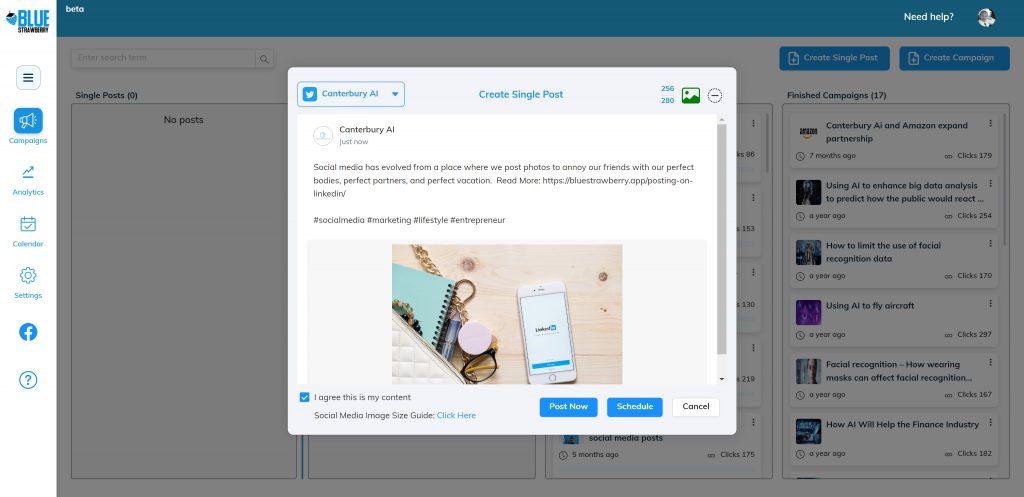 Once you click on "Create Single Post" a window will pop up and I will ask you to enter your post for social media, image, etc… and set the dynamics: Once you click the post or schedule button, we proceed to add it to the calendar and it either goes immediately live or scheduled for the date and time you set. This is where my AI social media posting comes in handy – I, social media management tool will help you to save time and succeed!
To Conclude
Told you we would soon be really good friends! Creating and managing your social media single posts on different social media platforms can sometimes be dull work, but with the help of our software tool features, you will notice how much you actually enjoy it! And why is that? Because your favourite social media marketing software is cloud-based, and available on the go, whether you use an Android or iOS system. Social Media Single Campaign Creation has never been easier!
Happy strawberry-ing friends ?