Schedule A Year's Worth Of Content in Advance with the Best Social Media Scheduler
Let's face it, we're in it to win it. Whether it be content creation, social media or simply generating sales for your business there is nothing that drives us more than to actually succeed and enjoy the juicy (strawberry) fruits of our labor. Social media and business growth are not going to happen overnight and we feel the frustration of creating content, structuring the copy, scheduling everything to find out things are not working the way that you hoped. Growth happens when you have the time to focus on things that actually generate growth.
You're probably wondering how you can accomplish that when you're too occupied with boring social media operational tasks such as scheduling posts, publishing etc.
That's where BlueStrawberry, the best social media scheduler kicks in. Let's talk more!
18 Month Horizon with the Best Social Media Scheduler
We all love projecting our goals into the future, with Blue Strawberry flexible scheduling template plan you can create content up to 18 months in advance. Sounds amazing right?
What is also super cool in this social media scheduler is that you can redistribute the actual frequency of posts. Let's say you want a more aggressive start, just crank your post distribution slider and you're good to go.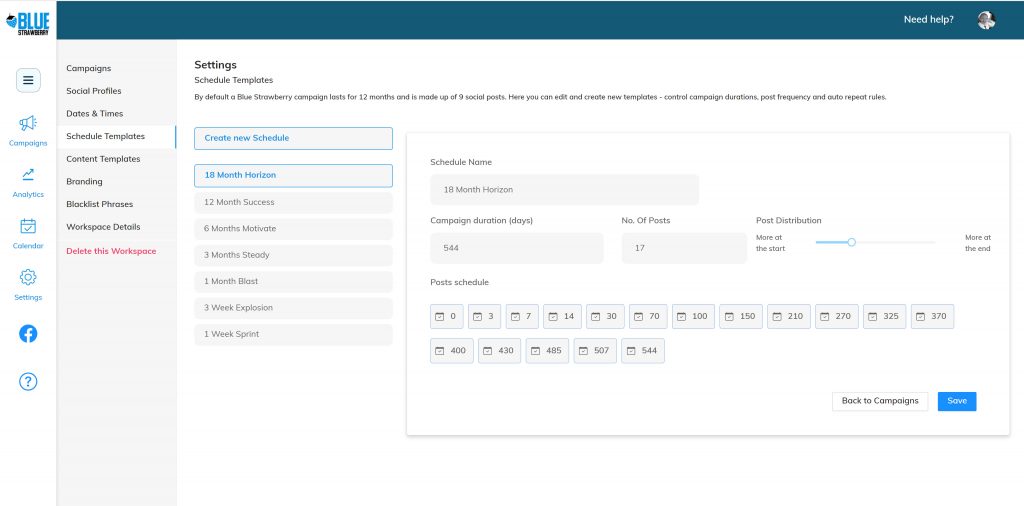 By default the template feature lasts for 12 months and is made up of 9 social posts. You can also edit the actual campaign duration, auto repeat rules etc as shown in the screenshot.
Looking for a 3 Week Explosion?
Blue Strawberry is the best social media scheduler that offers tons of different scheduling plans. Let's say you have a quick promotional event that lasts only for 3 weeks. We've got you covered! Just select a 3 Week Explosion option, enter the number of posts and pick a schedule and Blue Strawberry will take care of things for you.
Sometimes that promotion goes very well and we want to have it extended. What then? In that case, you may just quickly edit the actual post-distribution while the campaign is active and ongoing. Sounds neat right? It's important to mention that you can create your own custom schedule template that suits your needs the best.
Additionally, there are a lot of flexible scheduling options templates to choose from:

1 Week Sprint
3 Week Explosion
1 Month Blast
3 Months Steady
6 Months Motivate
12 Months Success
18 Month Horizon
We've created these to accompany everyone's needs, from small bloggers to big businesses that are looking to the long-term.
More Time For Your Business
Scheduling Social Media posts can be exhausting and confusing at times. No one likes to browse through heaps of folders looking for that particular image to upload. But then what happens when you suddenly find out that a certain post didn't get published? No one has the time to constantly pay attention to these things. Through use of BlueStrawberry, you will save that much needed time so you can focus on parts of your business that truly matters.