Blue Strawberry Generative AI has revolutionized how we approach digital marketing, particularly in social media campaigns. As businesses and organizations continue to leverage the power of these cutting-edge algorithms, they are discovering many benefits that transcend the traditional boundaries of content creation and user engagement. This article delves into the transformative advantages of generative AI, forever altering the landscape of social media marketing.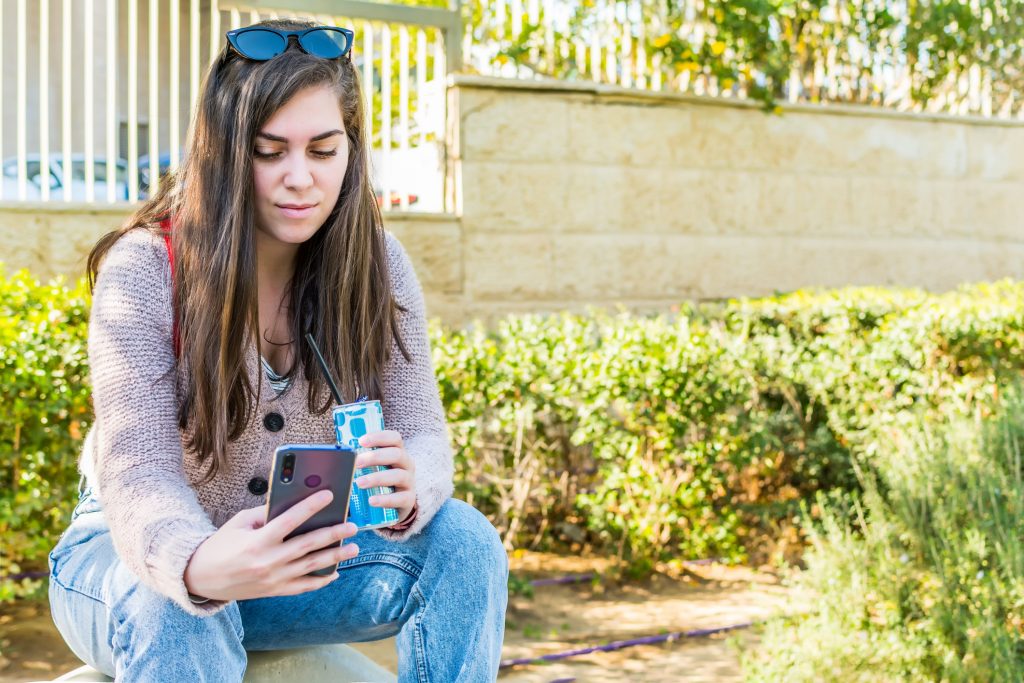 Amplified Creativity and Unprecedented Content Generation
Blue Strawberry algorithms possess the uncanny ability to produce original and engaging content that captures the essence of a brand or idea. By analyzing vast datasets, our model identifies patterns and trends that enable the software to create content that resonates with the target audience. This, in turn, paves the way for more effective communication and enhanced user engagement.
Moreover, Blue Strawberry empowers marketers with the capacity to generate content at scale. Gone are the days when marketing teams had to brainstorm ideas, draft copy, and design visuals tediously. With generative AI, countless creative iterations can be produced in a fraction of the time, freeing up valuable human resources for higher-level strategizing and execution.
Data-Driven Personalization
In an age where consumers crave tailored experiences, the one-size-fits-all marketing approach has grown increasingly obsolete. Generative AI algorithms excel at sifting through vast amounts of data to identify individual user preferences and behaviours, crafting highly personalized content that resonates on a deeper level.
Generative AI can deliver customized messages that drive higher conversion rates and foster lasting connections between brands and consumers by incorporating factors such as user demographics, interests, and previous interactions. This unprecedented personalization enables marketers to target their audience with laser-like precision, resulting in more meaningful and fruitful engagements.
Real-Time Adaptability and Learning
One of the most significant benefits of generative AI lies in its capacity for continuous learning and adaptability. Unlike traditional marketing methods that rely on historical data and predetermined strategies, generative AI can quickly adapt to changing trends and audience preferences in real time.
This agility allows marketing campaigns to remain relevant and effective, even in the face of rapidly evolving social media landscapes.
By monitoring user engagement metrics and other pertinent data points, generative AI systems can identify which elements of a campaign are resonating and which need improvement. This feedback loop enables marketers to fine-tune their strategies on the fly, optimizing campaigns to ensure maximum impact and return on investment.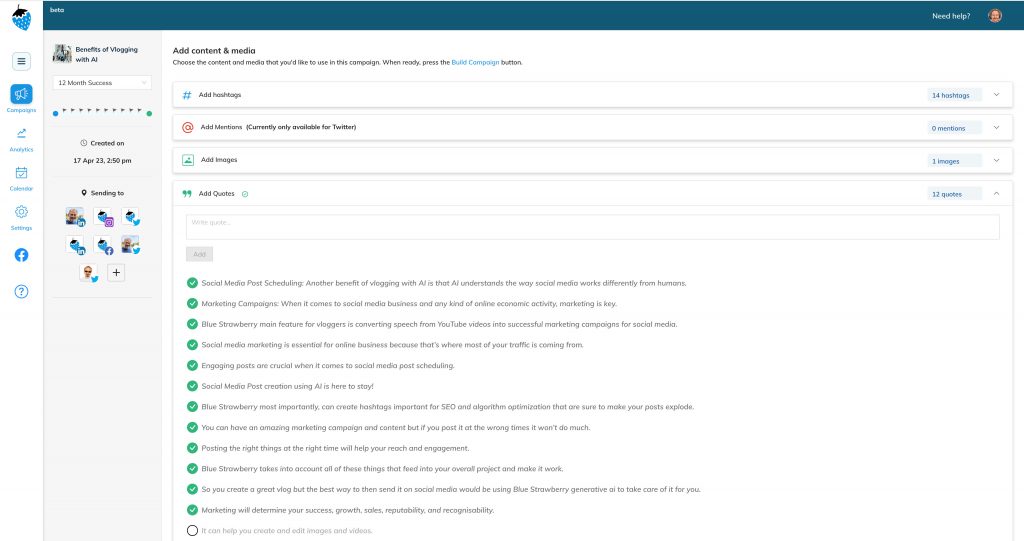 Streamlined Multilingual and Multicultural Campaigns
As the digital landscape continues to break down geographic barriers, brands are faced with the challenge of creating content that resonates across different languages and cultural contexts. Generative AI offers a solution to this conundrum, facilitating the seamless translation and adaptation of content for diverse target markets.
By incorporating language models trained on vast multilingual datasets, generative AI can generate culturally appropriate and contextually accurate content for global audiences. This capability allows brands to maintain a consistent voice and message while catering to the unique preferences and sensibilities of consumers from different backgrounds, fostering a truly inclusive and global marketing approach.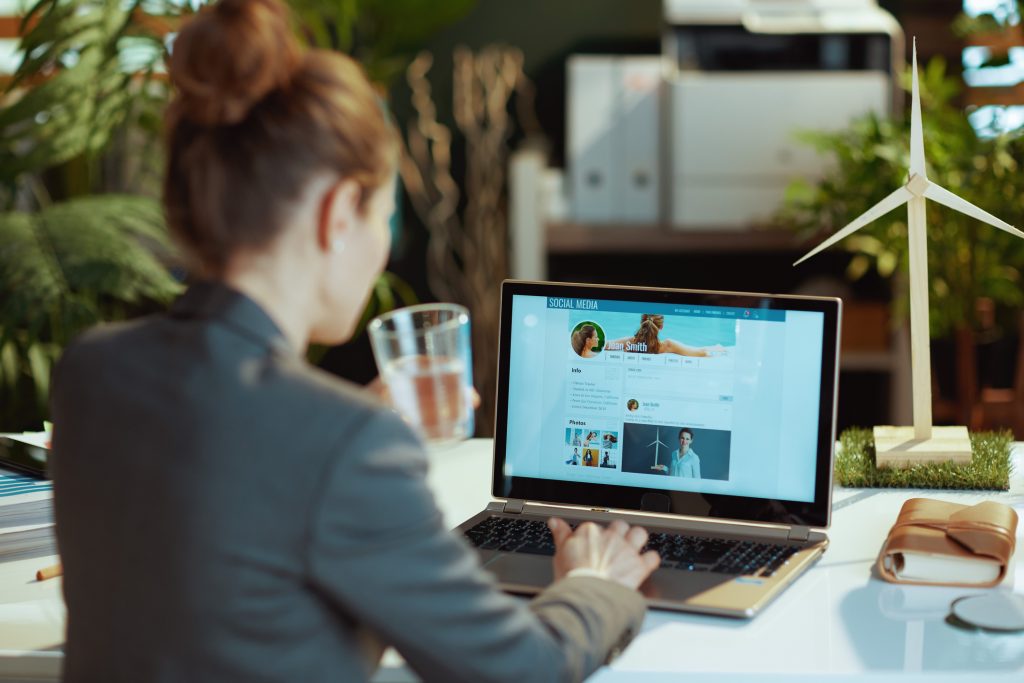 Enhanced ROI through Cost Reduction and Efficiency
The implementation of generative AI in social media campaigns has the potential to yield significant cost savings and boost overall efficiency. By automating the content generation process and reducing the reliance on human labour, organizations can achieve more with less, lowering the overall cost of marketing campaigns.
Additionally, the data-driven personalization and real-time adaptability of generative AI systems lead to higher user engagement and conversion rates. This, in turn, contributes to a more effective allocation of resources, maximizing the return on investment for every marketing dollar spent.
The integration of Blue Strawberry in social media campaigns has opened the door to a world of possibilities, enabling individuals and businesses to harness the power of cutting-edge technology to drive engagement, conversions, and customer loyalty. By capitalizing on the myriad of benefits these algorithms offer, marketers can now unleash their creativity and adaptability like never before, crafting highly personalized and effective campaigns that speak to their audience on a profound level.
As generative AI continues to evolve and mature, we can expect to see even greater strides in the realm of social media marketing. As brands become more adept at leveraging the power of these algorithms, they will be better equipped to navigate the ever-changing digital landscape, fostering deeper connections with their audience and achieving unparalleled success.
Ultimately, the marriage of Blue Strawberry generative AI and social media campaigns represents a new frontier for digital marketing—one that promises to revolutionize how we approach customer engagement and brand storytelling. By embracing this technology, businesses can unlock untapped potential and chart a course towards a more innovative and dynamic future.