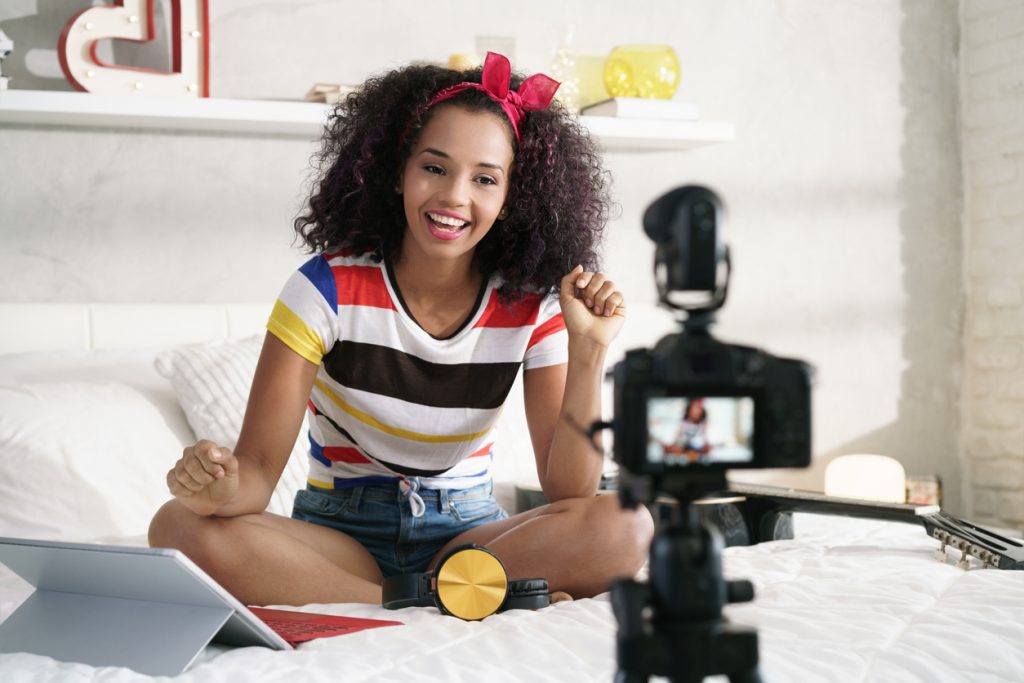 Hi, it's Blue Strawberry again, I'm here to check your homework on the topic of influencers. 
A while ago, I talked about influencer marketing. I hope you've learned a lot about how to set your strategy goals and choose a suitable influencer campaign for you.
Now I would like to tell you more about different types of influencers by follower count: nano, micro, macro and mega.
#1 Small but mighty influencers – nano influencers
Nano influencers, of course, have the smallest number of followers – 1,000 to 10,000. Don't back away – in most cases, this can actually bring you more profit.
Having a small audience doesn't mean nano influencers don't make an impact. On the contrary, their audience is usually highly engaged, active and loyal. The relationship they form with their audience is usually close-knit and strong.
If you want to advertise your brand in your local area, contact a nano influencer that works there. Similarly, if you want to reach a particular niche, e.g. people who are interested in organic beauty products, nano influencers are a perfect solution.
Another great advantage of collaborating with nano influencers is that they are not expensive. Plus, they're usually easy to contact – just send them a message.
#2 Micro influencers
Micro influencers have a slightly bigger number of followers – 10,000 to 100,000. The size of their audience is still moderate enough to keep engagement and loyalty strong.
Since micro influencers are not celebrities, people don't follow them because of their fame, but because of the content they provide. Like nano influencers, micro influencers usually work in a certain local area and/or specialise in a certain business niche.
If you collaborate with a micro influencer who works in your niche, you'll reach people who are truly interested in your brand. In other words, if you want to advertise your organic soaps, find a micro influencer who advertises natural beauty products.
Is there a better way to attract a well-targeted audience to your brand than collaborate with a trustworthy expert who will advertise it?
#3 Macro influencers
Macro influencers have from 100,000 to 1,000,000 followers. The fact that their audience is bigger often means that they are probably not as closely connected to their followers as nano- and micro influencers are. But they still deeply care about the content they provide and the audience trusts them.
Many of them do influencing as a full-time job which is their only source of income. They work on different platforms – Instagram, YouTube, TikTok, Twitter, Facebook, blogs, vlogs, podcasts… But they are still not celebrities in an old-fashioned sense. They have their online fame, but your grandma probably won't recognise them as they pass her on the street.
If you have a more substantial budget and want to raise brand awareness among a bigger number of people, macro influencers are the right choice for you.
#4 Mega influencers
Mega influencers have more than 1,000,000 followers who probably follow them because of their offline fame. In other words, mega influencers are celebrities like actors, musicians or athletes. To name a few: Cristiano Ronaldo, the Kardashians, Kanye West, Beyonce…
Megainfluencers are more difficult to contact – you'll have to go through an agent or an influencer platform. They're also very expensive – we're talking about thousands or even millions of dollars per post.
So, if you are a big brand with that kind of a budget and you want to reach the largest audience possible, reach a mega influencer and collaborate with them.
In the end
I hope you now know which type of influencers would be suitable for your brand. If you need some extra AI assistance, feel free to contact Blue Strawberry.