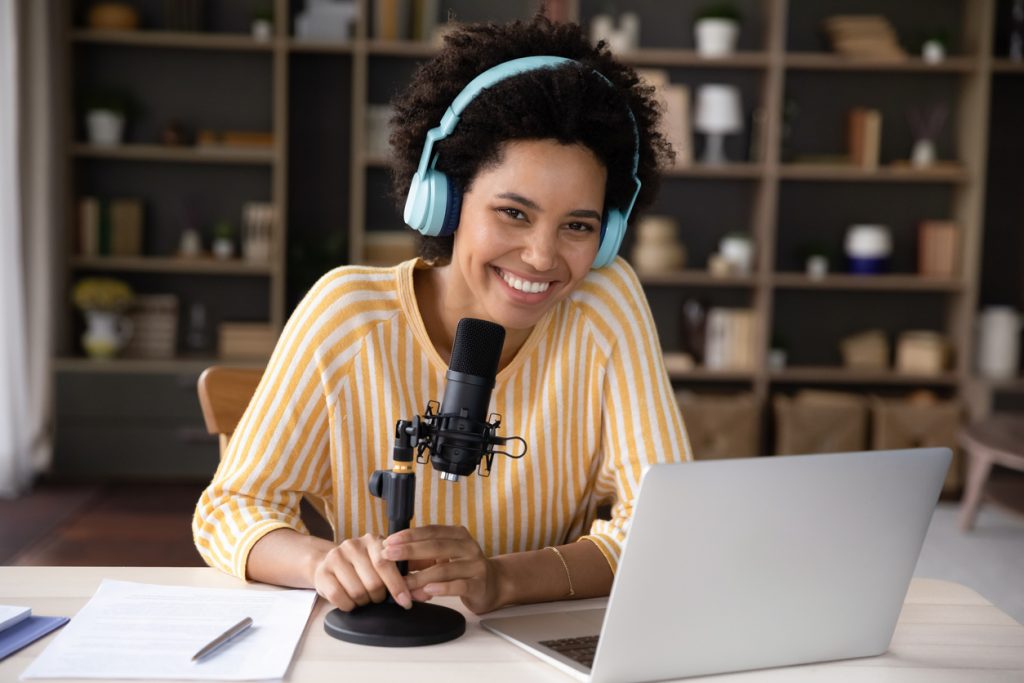 So, you have a lot to say to the world, and you've finally decided to start your own Apple podcast! Good for you! A podcast can be a good way to let out everything that is weighing you down and to meet like-minded people that can help you find the answers you've been looking for. It's also a great way to inspire other people, especially if you've led an interesting life, and, not to mention, when done right, a good source of income.
Now, for your words to get out there, you need to learn how to market your Apple podcast. There are tons of different ways you can do this, but Blue Strawberry likes to keep things simple and effective, and will only suggest the most accessible, effortless, and easy ways to promote your podcast. Keep it simple, especially if you're at the beginning and you're looking to increase your range and grow your follower base. Less can be more if you know what buttons to press. Check out these 5 easy strategies to promote your Apple podcast:
Ask nicely for people to subscribe
You can start with the most obvious choice: ask people to subscribe. Subscribers are a vital piece of the puzzle of ranking high in Apple Podcasts, so the more you have, the merrier you will be. Furthermore, if you have new subscribers, you will increase your chance to have more people download your podcast episodes as soon as they are published. So, before trying and testing a variety of tips and tricks to market your Apple podcast, how about just asking people if they could subscribe? There are a lot of nice people in the world, you know!
Release at least 3 episodes when you first launch
Suspense is all fine and dandy, but when you're a newbie in the vast world of podcasts, you need to have a different approach to your marketing strategy and don't play too hard to get. Release 3 to 5 episodes on launch day and let the world get to know you and what your podcast is all about. Furthermore, if your first episode is not exactly what some are looking for, the next two might very well hit the mark. Allow your audience to have where to choose from. Publish the first three episodes on launch day and prepare at least two more for the weeks to come.
Take advantage of all that social media has to offer
Social media is a most valuable weapon in every marketer's arsenal because there's no faster messenger pigeon in this world than social media platforms. Share videos, images, teasers, soundbites, anything that can be shared using social networks, and spread the word about your wisdom and podcast. Social media allows creativity to come and play, so you should make the most of it. Share updates about your podcast launch, use Twitter to share soundbite clips, pin your episode tweets or Facebook posts with the iTunes URL, create social media campaigns to keep people interested and remind them that you are there to entertain. Use Blue Strawberry to automate your campaigns using your podcast URL, so you can have more time to create unique content!
Submit your podcast to directories and aggregators
Podcatchers are a great invention used to collect and play podcasts. They can assist with the discovery of new podcasts and can make a great addition to your marketing strategy. You can use Overcast, Stitcher, PodcastAddict, and many, many others, to market your Apple podcast and grow your audience. Make sure your podcast is listed in as many places as possible. Apple may be the Holy Grail of podcasts, but it wouldn't do you any harm to take a look at what Spotify and Google have to offer either.
Create a YouTube video from your podcast
Of course, it's an option! Your podcast can take as many shapes as you wish it to take. It is almost like a shapeshifter, so why not convert the audio into a YouTube video for more SEO benefits and the opportunity to share videos on social media and add closed captioning and transcripts. You can mix and match your podcast content with live video for a boost of creativity and entertainment. Since Google appreciates videos more than for anything else available online, why not give it a try and convert your podcast into a YouTube video? You can use various tools to help you convert audio into a video.