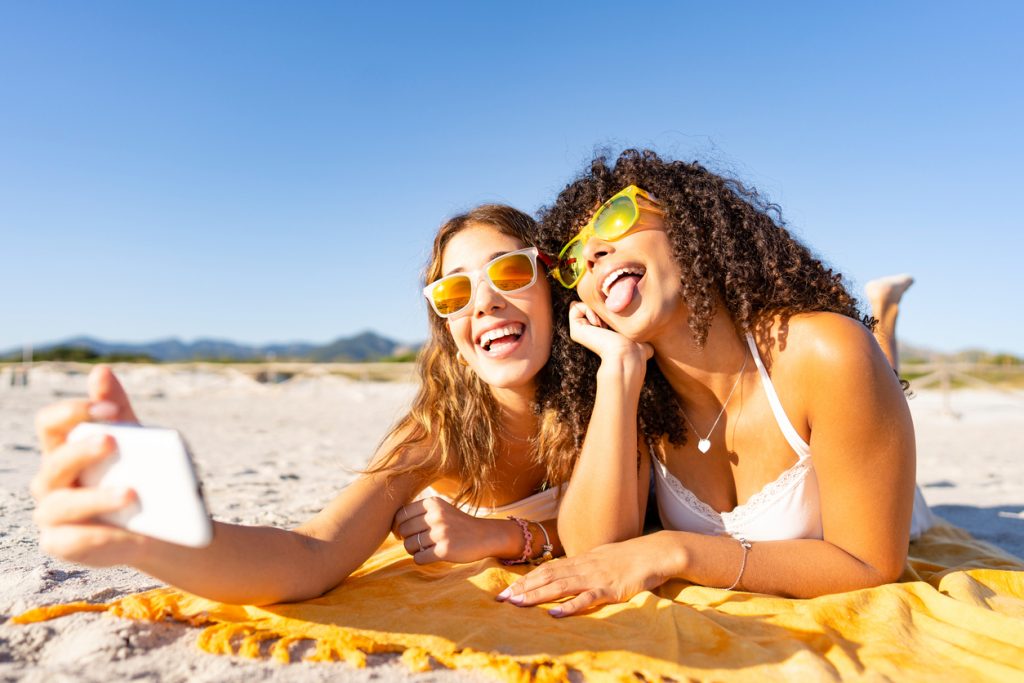 Are you working out to get your bikini body ready for this summer? But what about your social media goals? Have you planned them already? It might seem too early but think about it. Summer lasts for at least three months, so you'll need heaps of content to keep your audience enthralled and your brand visible while showing off that awesome body nurtured with green stuff and hours spent in the gym.
Summer is the season where life is easy, cocktails are flowing, and kids and parents are on holiday. They suddenly forget all about their routine and healthy living, spend more time on their phones, and are eager to discover new ways to…spend their money. This is where your brand should jump in and capture their attention.
If you are an influencer, vlogger, or another type of creator, summer is the time to shine bright like the sun, boost your online presence, and increase your following. This is also the perfect time to launch new products, grow your business, and gain more customers. Because summer makes us all vulnerable to temptations. Tempt your customers and achieve your social media goals this summer!
Boost brand awareness
Summer is the season to be overly ambitious and boost your brand awareness. Brand awareness is just as important as leads and helps you grow the number of your customers willing to pay for your product. Social media has been created to help you increase your brand awareness (or so you must think!).
While potential customers might not need your product or service right now, when the time comes to purchase such things, your brand will pop up into their minds. Get advantage of social media metrics and count your mentions, shares, and retweets to see what people like to see and want from you. Put together a holiday calendar and take advantage of every holiday in there to promote your brand.
Post regularly and add content that stands out and captivates your followers. Yes, I know you also want to enjoy summer and go to the beach and spend your days in the sun. That's why I put my content creation and scheduling abilities at your service. Just feed me one blog article or video link, and I will create social media content for up to 18 months, enough to get you till next summer and even further.
Increase traffic
Whether you have a website or an online store, increased traffic means more money. Use your social media accounts as emissaries for your business and send them out into the world with words of your extraordinary, outstanding, and superb products and services. They will drive back clicks and eventually sales. People who choose to visit your website and click their way through its pages will at some point make a purchase. And if not now, then maybe next time!
Small businesses usually use Facebook and Instagram for their social media strategies, but if your field is B2B, you will benefit greatly from your LinkedIn page. However, pay attention to the content you are planning to share. LinkedIn users expect higher-quality content while your Facebook will do better with more relaxed posts.
Don't be too wordy on Instagram where photos and videos make the rules. Check the number of visitors and share of traffic from social media channels, as well as the quality of traffic brought in by your social media accounts. Peek at your competition and see what they are doing. If they have substantial engagement from their followers, it wouldn't hurt to let their strategy inspire yours. All is fair in war…and social media!
Plan campaigns and promotions
Nothing sells better than a good old-fashioned discount code. Plan your summer discount offers and create social media campaigns to draw in a high number of curious visitors. Not many of us have it in our DNA to resist the temptation of a discount offer, so chances are your visitors will eventually make a purchase, even if they don't need what you are selling.
Offer unique discounts on products or services that work hand in hand with the season, whether we are talking of goods, clothes, or even Lightroom presets. If it's for sale and has a discount code, it will probably be added to the cart fast and without remorse. Increase the suspense with social media posts that create a buzz around your offer. You can do this a few weeks before the launch of the campaign. Let your followers know something is coming and help them prepare for the event. They will most likely use the time to visit your accounts and pages and browse through your products. When the time comes, you can use Facebook Ads to promote your campaign, but aim it at a broader audience. Research info about the responding audience and identify the segments that work for your business. Use images, videos, GIFs and see what sparks joy!