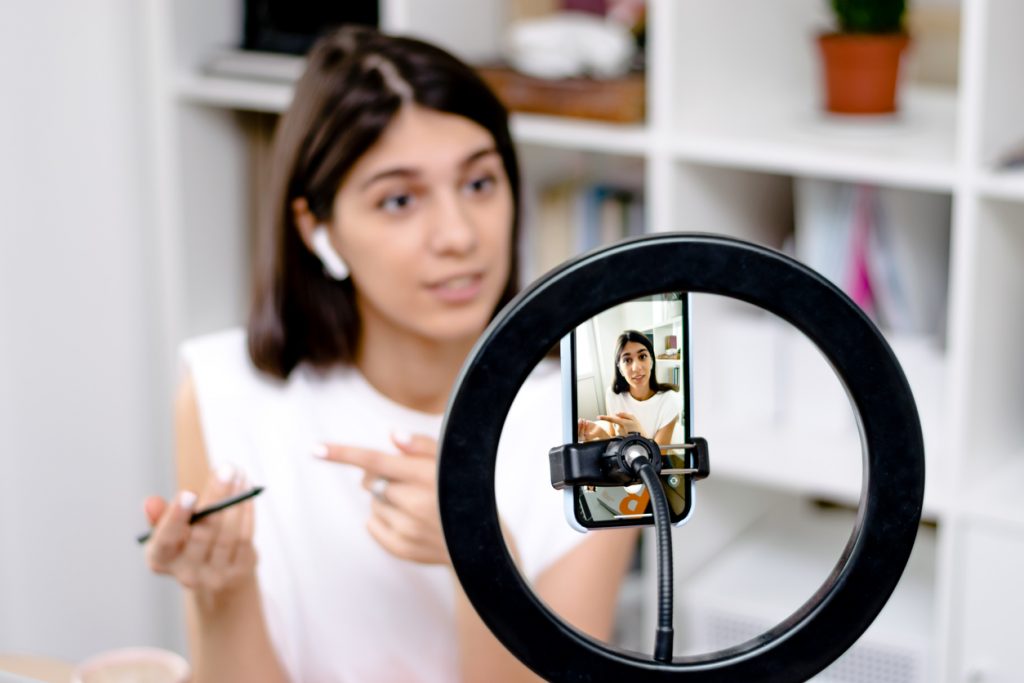 Welcome to a new edition of "How to become a social media star?" by Blue Strawberry. Today, I want to talk to you about the importance of vlogging. You've probably heard by now that the future of social media gravitates around video, and vlogging is the fastest way to lure social media users to your channel and turn them into loyal customers.
Vlogging is unavoidable if you want to grow your audience and enhance your online presence. Billions of users choose YouTube as their to-go platform to watch billions of hours of videos every day. Of course, you will also find vlogging opportunities on Vimeo, Facebook Live, Instagram, and other platforms, but if you are serious about becoming a successful vlogger, I recommend starting your own YouTube channel and vlog like there is no tomorrow.
Makes your voice heard loud and clear
Vlogging helps you reach a wider audience! It seems the old-fashioned articles are no longer a favorite source of inspiration, and people prefer nowadays to watch a video instead of reading a blog post. And this is not necessarily a bad thing. It is simply a different thing, or better yet, the next step in the evolution of social media. Moreover, YouTube videos appear now on the top in Google searches. Thus, vlogging significantly increases your chances to land on Google's first page results.
Whether you like standing in front of a camera or not is unfortunately no longer relevant. If you want to have the best chance to make your voice heard and reach an audience beyond your imagination, you need to conquer your fears and start filming. YouTube's algorithms help you access the masses and drive traffic from your vlogs to your website. This, in turn, generates leads, sells products, and increases customer retention.
Helps you interact with your audience
While words are important when trying to connect with our audience, there is no better way to communicate emotions than a video. Videos break down the barrier between a business and its customers and allow the audience to perceive the accurate message you want to convey using gestures, facial expressions, a certain tone, etc. It also helps you position yourself as an expert in your field and gain your audience's trust through authenticity and an open channel of communication.
Vlogging allows the audience to get a glimpse of your true personality and relate to what you are saying, feeling, or explaining. It strengthens your connection with the viewers and helps you convince them of your truth. Moreover, vlogging captures the real person behind the brand, maybe a flawed person, just like everybody else, who doesn't want to portrait perfection and is not afraid to misspell words or stutter at times. Vlogging makes you relatable and your brand desirable.
Promotes your brand and sells products
Vlogging helps businesses drive traffic to their website and promote their brand. Watching videos when searching for certain products is becoming the norm for potential customers. This is a great opportunity to demonstrate how your products work and why they should be purchased. Many will not give a second look at an article if they have the option to get their information from a video. So, vlogging helps you attract visitors to your website and earn the loyalty of your customers.
It will also help you create a community of people with the same interests and offer them a platform to exchange ideas and opinions. Vlogging will soon dominate marketing strategies and social media campaigns and become the number one platform for selling content. And I am not the only one saying this. Instagram has just announced that video content will become their priority, and many other platforms will follow. Why? Because it has been proved that people respond better to video content.
It is easy to start, fun, and entertaining
And if everything else hasn't convinced you yet to start a vlog, maybe the fact that vlogging is easy, fun, and accessible should do the trick. You don't need to have experience or special equipment to start your vlogging adventure. All you need are some basic video editing skills – easy to learn from other vloggers, and a camera. Hey, if you want to be a maverick, even a phone will do!
You can start vlogging Whenever, Wherever, and just have fun with it. Moreover, this will help you learn new skills – like video making and editing and can initially be a cool hobby to have instead of binging The Office for the ninth time. Once experience starts to pile up, and you get the hang of it, who knows, maybe you'll even achieve fame and fortune through your vlog. The success of numerous vloggers can attest to the truthfulness of my words.